A landscape just doesn't seem complete without a fire feature of some kind. Fire adds instant drama to your outdoors, giving us a place to socialize while we sit and watch the flames flicker and dance against the night sky. It draws us in and relaxes us, bringing us closer to nature and each other.
But what kind of fire feature should you add to your home? There are many different kinds to choose from, each with its own particular charm. Then you also need to consider the fuel source and decide which materials you'd like to use.
And perhaps the biggest question you have to ask yourself is "how do I plan to use this fire feature?" 
We've written this post to help you explore the options so you'll be able to choose a fire feature that'll complement your space and enhance your lifestyle.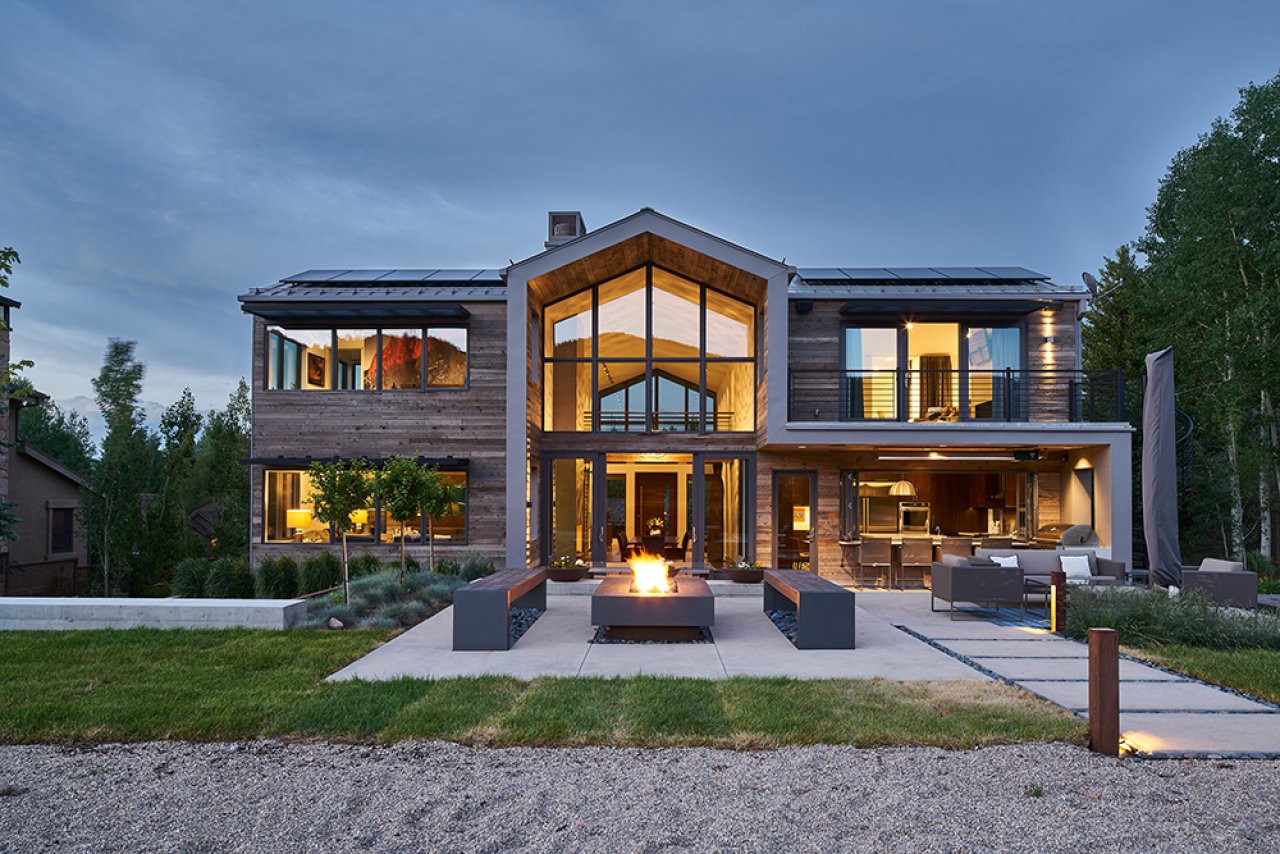 Firepits: casual, informal and inviting
A firepit is reminiscent of the traditional campfire and is generally placed in the center of a seating area. The informal atmosphere invites friends and family to gather together to swap stories, roast marshmallows and relax after a busy day. 
Here are some reasons you might want to consider adding a firepit to your landscape:
Firepits are versatile and can be built from a variety of materials in any shape or size you wish, so they fit in easily with any design style or aesthetic.

A firepit doesn't require a lot of space, leaving you free to add other features to your yard.

You'll be able to recreate that "campfire" feeling without having to leave the comfort of your backyard.

You enjoy a casual, informal atmosphere surrounded by nature.

Consider the fuel source
When choosing a fire feature you also have to consider the type of fuel you'll be using. 
Natural gas can be used to fuel anything from a simple fire bowl to a traditional fireplace. They're easy to set up and the fire is ready in seconds — and when it's time to go inside, you don't have to wait for the fire to die down so it is safe to leave it unattended. As an added bonus, your clothes won't smell like smoke!

If you don't have a natural gas line, this is something we can help you with, provided you have access to natural gas.
Wood provides a beautiful smokey aroma and is the classic fuel for fireplaces and firepits. And while it gives you a great experience, it's not without its drawbacks. It takes time to light the fire and you have to continually monitor it, adding more wood as needed. You also have to make sure you have a steady supply of wood nearby (some fireplaces have wood storage built right into the hearth).

Gel is easy to use and is an environmentally friendly fuel, but the size of the flame can't be controlled and it doesn't produce very much heat. This fuel source is best suited for fire features that are used more as an accent, like fire bowls or smaller firepits.
Never burn "green" wood, construction waste, plastic, garbage, or yard waste. They create more smoke and release toxic fumes into the environment.

Choose from a variety of materials
Our masons can craft the most meticulous designs, hewing beauty out of natural stone — but a custom fireplace can be designed out of nearly any heat-safe material, such as concrete, brick, block, steel and copper.
This is something to discuss with your designer so you get an aesthetic that matches the overall look and feel of your property.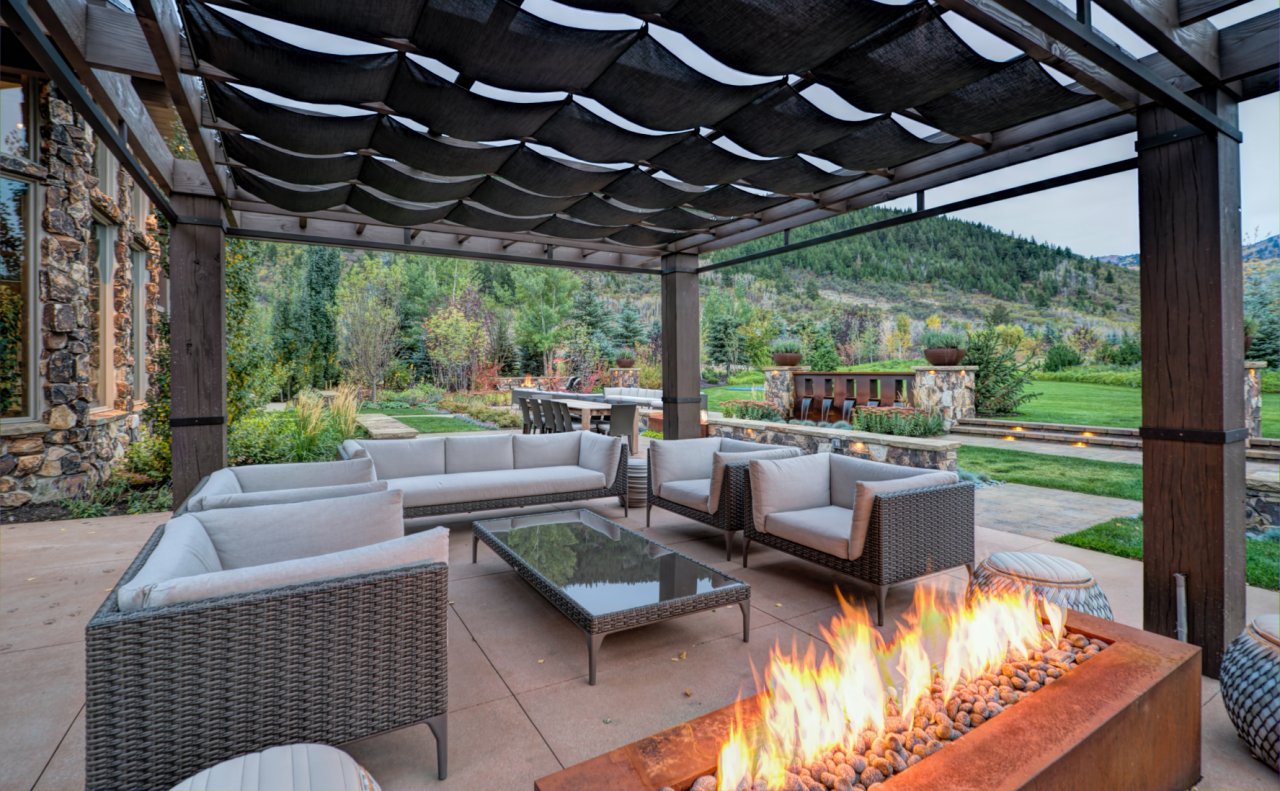 Other considerations…
Before you build a fire feature in your yard, it"s a good idea to familiarize yourself with the local fire codes. Some backyard firepits and fireplaces are limited by size and the type of fuel you're permitted to use. You might also be restricted by how close a fire can be to homes, other structures and trees. If you choose to build your fire feature with Sunline Landscapes this is something we can help you with.
Aside from that, there are no limitations… and who said you can't have a fire pit and a fireplace? Or multiple fire features, for that matter! 
Many of our clients have the best of both worlds — a firepit for casual get-togethers and a fireplace by the house for more formal entertaining (plus a few extra to serve as accents on a patio or walkway).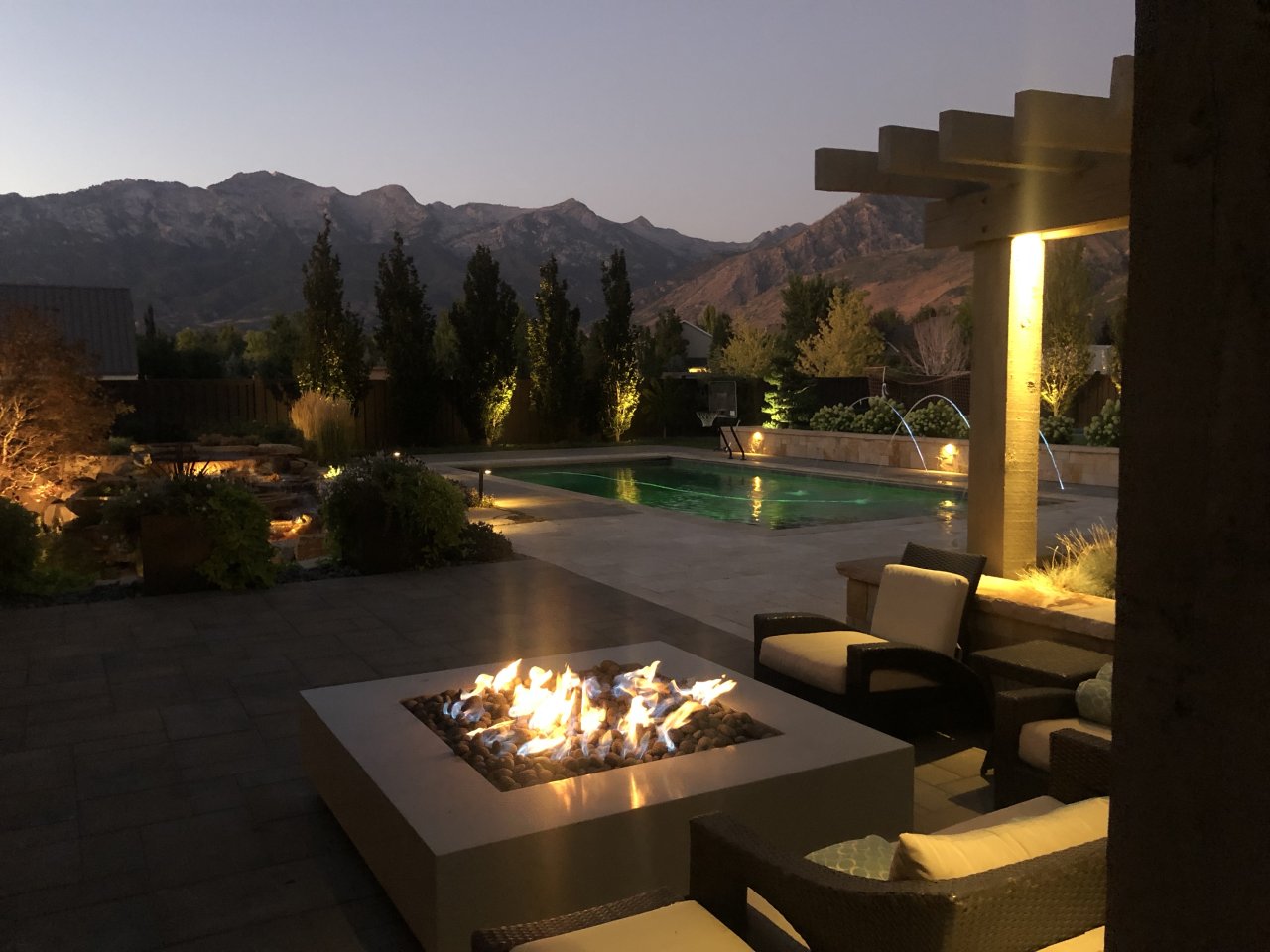 Ready to bask in the glow of the fire?
Adding a fire feature to your landscape — whichever type you choose — is a decision you will never regret. It'll provide you with years of soothing comfort, ambiance and warmth while building strong memories with your family and friends.

If you're interested in adding an element of fire to your property, we offer property enhancements as an additional service to our property care clients. Simply contact your account manager or book a consultation with us. We're always happy to help!