Installing a pool is a refreshing way to relax, play, entertain and connect with your loved ones while escaping the summer's heat — and the kind you choose will have a huge impact on the look and feel of your property.
Pools are often the focal point of your landscape design, so it's important to get it right. All the big decisions need to be made before any digging starts. 
Once you've decided to install a pool and have a general idea of where it should go, there are many other decisions to be made — the materials your pool will be made from, the type of pool you're looking for and the accessories you'd like to add. If you're unsure of the best place for your pool,  this is something our design team can help you with. 
This post is meant to inspire you and help make those decisions much easier.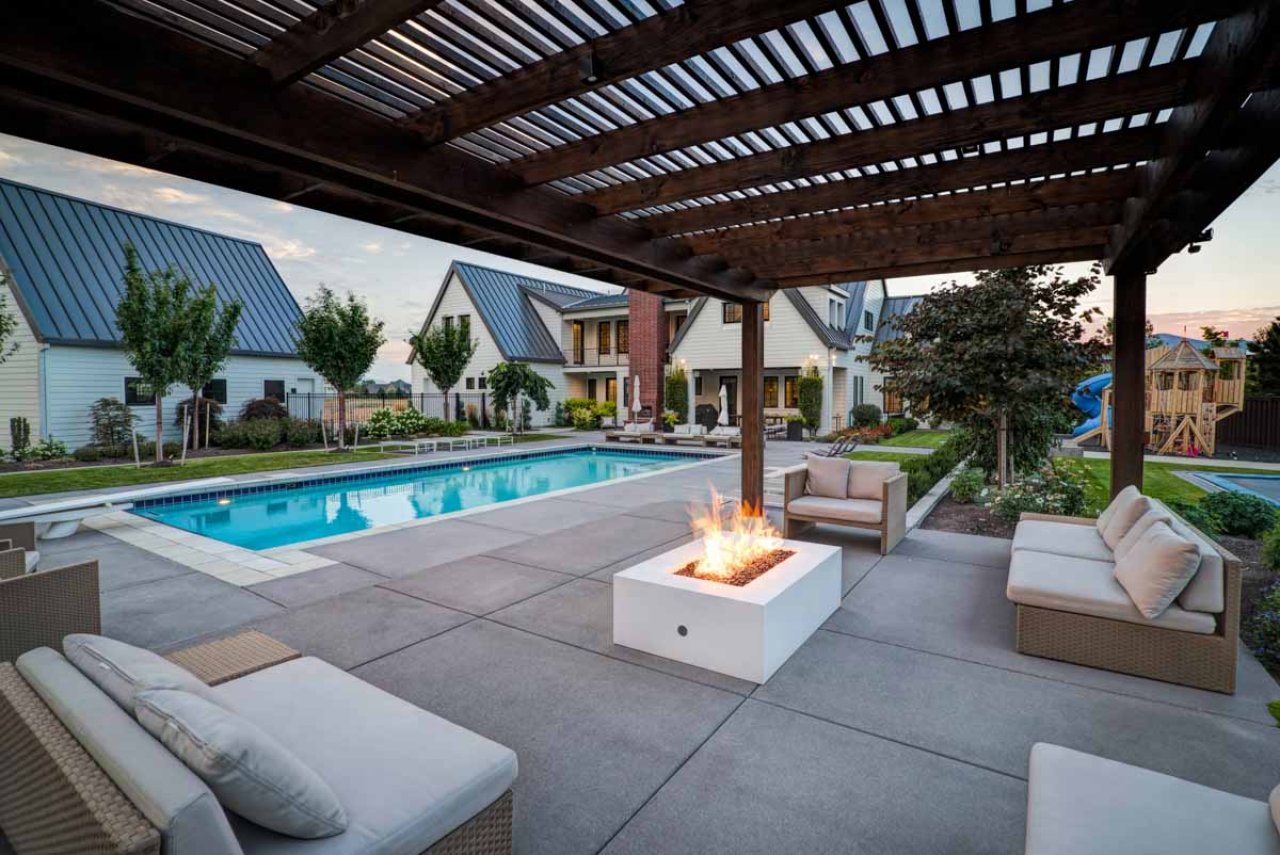 Concrete pools: lasting beauty with a custom look
Concrete is the most common material used for constructing inground pools and is prized for its durability and ability to be customized. In fact, it will never have to be replaced if it's been properly maintained.
Here's a brief insight into how they are installed:
After the area for the pool has been excavated in the desired shape, it's framed using rebar and then sprayed using shotcrete or gunite. Both are concrete, but shotcrete is fully mixed before it's sprayed and gunite is mixed in the nozzle as it's being sprayed.  
After the shell is created and cured, it's covered with plaster (cement mixed with marble dust), tile or stone to create a watertight finish. Of the three choices, plaster is the easiest to maintain and repair. 
Concrete pools can also be lined with vinyl to make it smoother, but bear in mind the liner will need replacing when it shows signs of damage, usually every 7 to 12 years.
Whichever you choose, your concrete pool will provide a contemporary look and feel to your outdoor space while giving you the opportunity to inject character and personality into your pool design.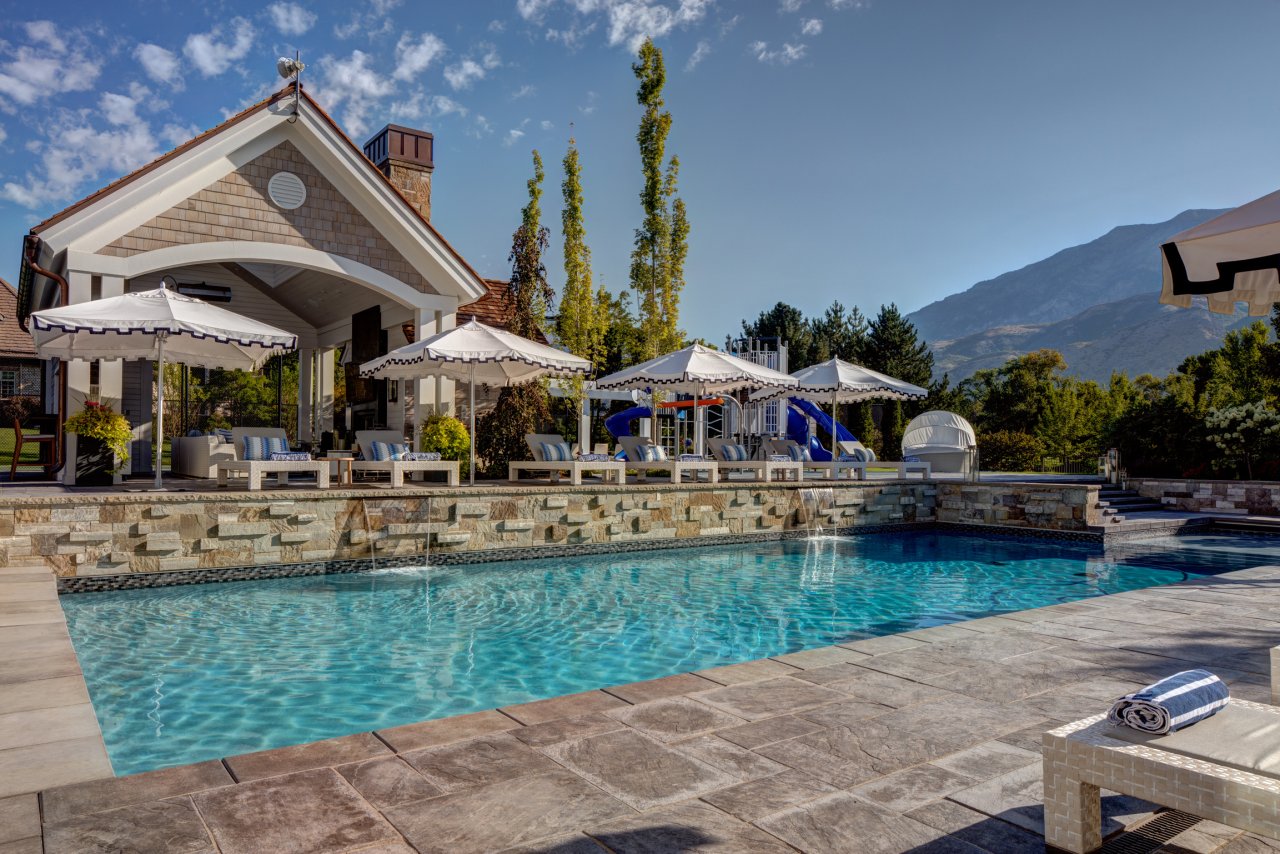 Fiberglass pools: an easy, low-maintenance option
Fiberglass pools are built off-site so they're fairly quick and easy to install, so you'll be able to host your first pool party in as little as three to six weeks — but you're limited by the shapes and sizes available from the manufactured. 
The smooth, non-porous surface of fiberglass makes it very easy to maintain, and since algae has difficulty growing on it you can keep it clean without harsh chemicals. A damp rag and simple pool cleaner is all you need. 
Vinyl pools: custom-built for you yard
Vinyl pools can be cut to any shape or depth you want, and is quicker and easier to install than a concrete pool.
Once the pool is dug out to the desired shape a layer of vermiculite or grout is applied directly to the soil using a trowel. The vinyl liner is place directly on top of this and the walls are supported by panels made from galvanized steel or thermoplastic.
The liners are also customizable and come in a variety of colors, patterns and thicknesses… and because they're so simple to replace you can change it up to keep your pool looking cool and contemporary.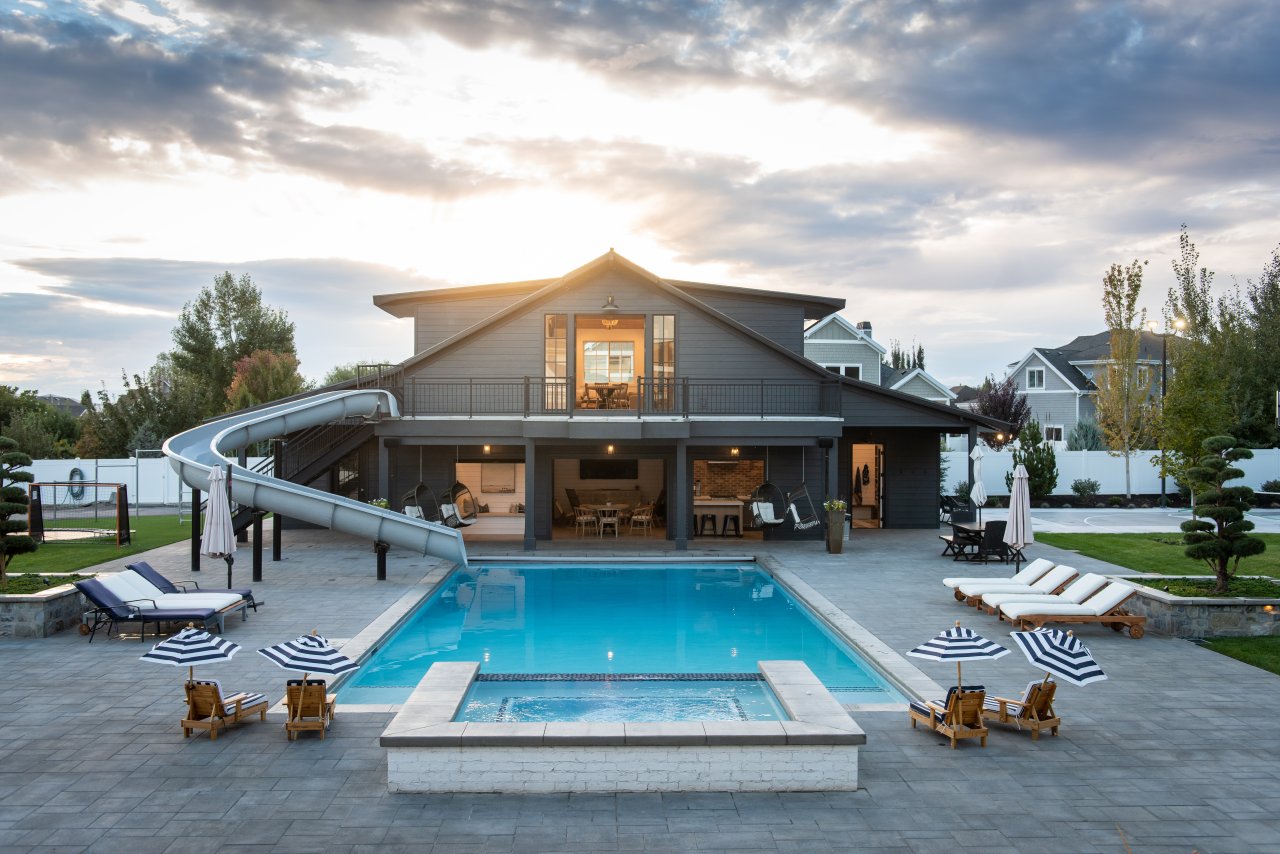 Vanishing edge pools
The best way to create a luxurious, resort-like feel to your landscape is to consider installing a vanishing edge pool. This type of pool creates the illusion that there is nothing separating the water from the surrounding landscape, taking full advantage of the breathtaking views we enjoy here in Utah.
Vanishing edge pools are particularly suited to properties with a natural slope… otherwise, a portion of the pool would have to be built above ground to give the illusion of a slope.
There are three basic types of vanishing edge pools:
Infinity pools, also known as negative-edge pools, are designed with one or more of the pool walls built at the same height as the water level. The water cascades over the edge and is captured in a holding tank where it is recirculated back into the pool.

A knife-edge pool is similar to an infinity pool, but the knife edge doesn't have any coping or edge material. Water flows directly into a groove along the edge into the holding tank instead of spilling over the side of the pool.

With a perimeter pool all four sides "vanish" and the water disappears into a groove along the edge of the pool and is level with the decking. 
While vanishing edge pools can be made from concrete, fiberglass or vinyl some materials require more skill than others and may not be suitable for all locations or conditions — so make sure your pool is installed by  specialists with the necessary knowledge and experience.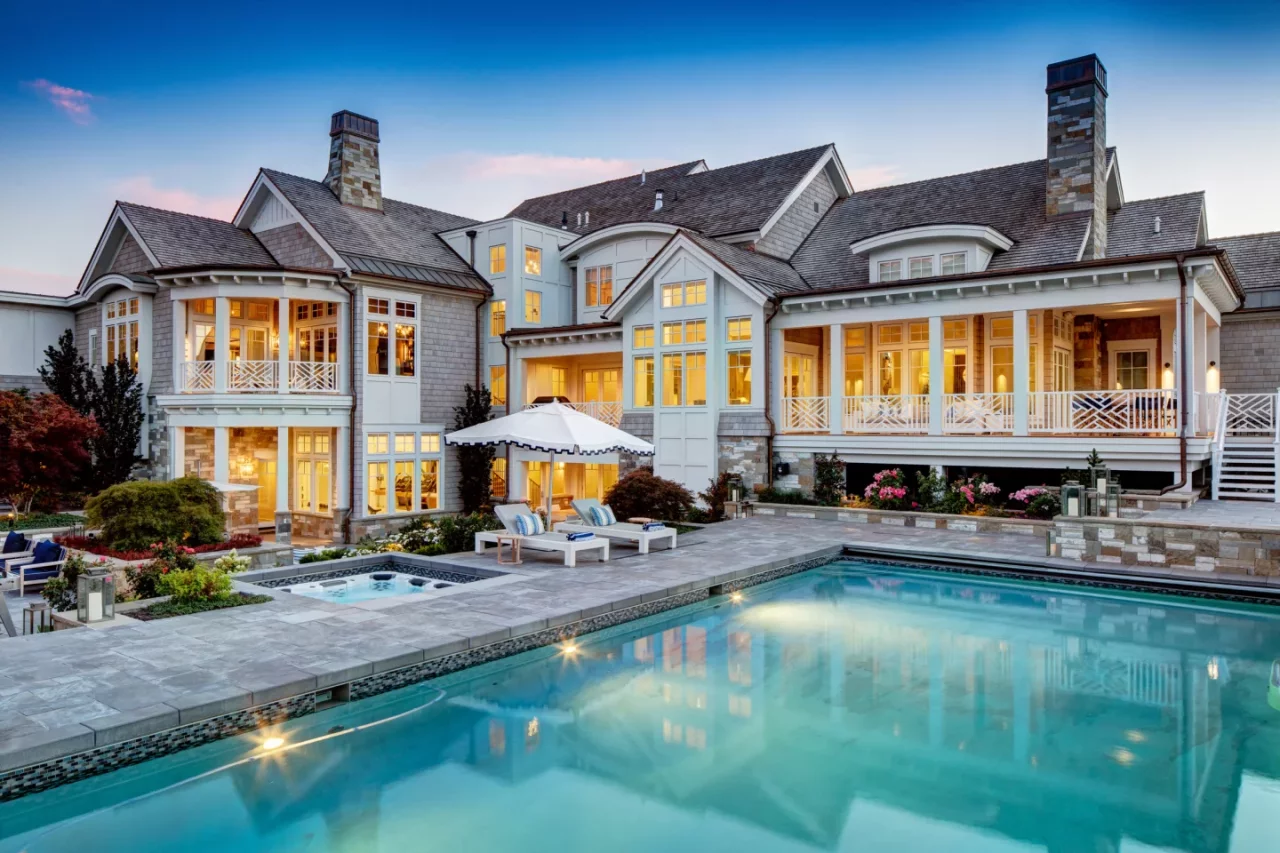 Pool accessories and add-ons 
There are countless ways to customize your pool.
You can add water slides, fountains or diving decks…. build a naturalized waterfall that empties into the pool… illuminate it with colored lights… wire it with an outdoor sound system… and connect it all using smart technology.
 And don't forget custom pool coping, ladders and steps.
This is where a designer can really help your vision for your pool come alive, since they know of every conceivable upgrade and have the experience to know what is possible for your particular landscape. The designer can also help prepare a plan for things like power, water, decking and landscaping.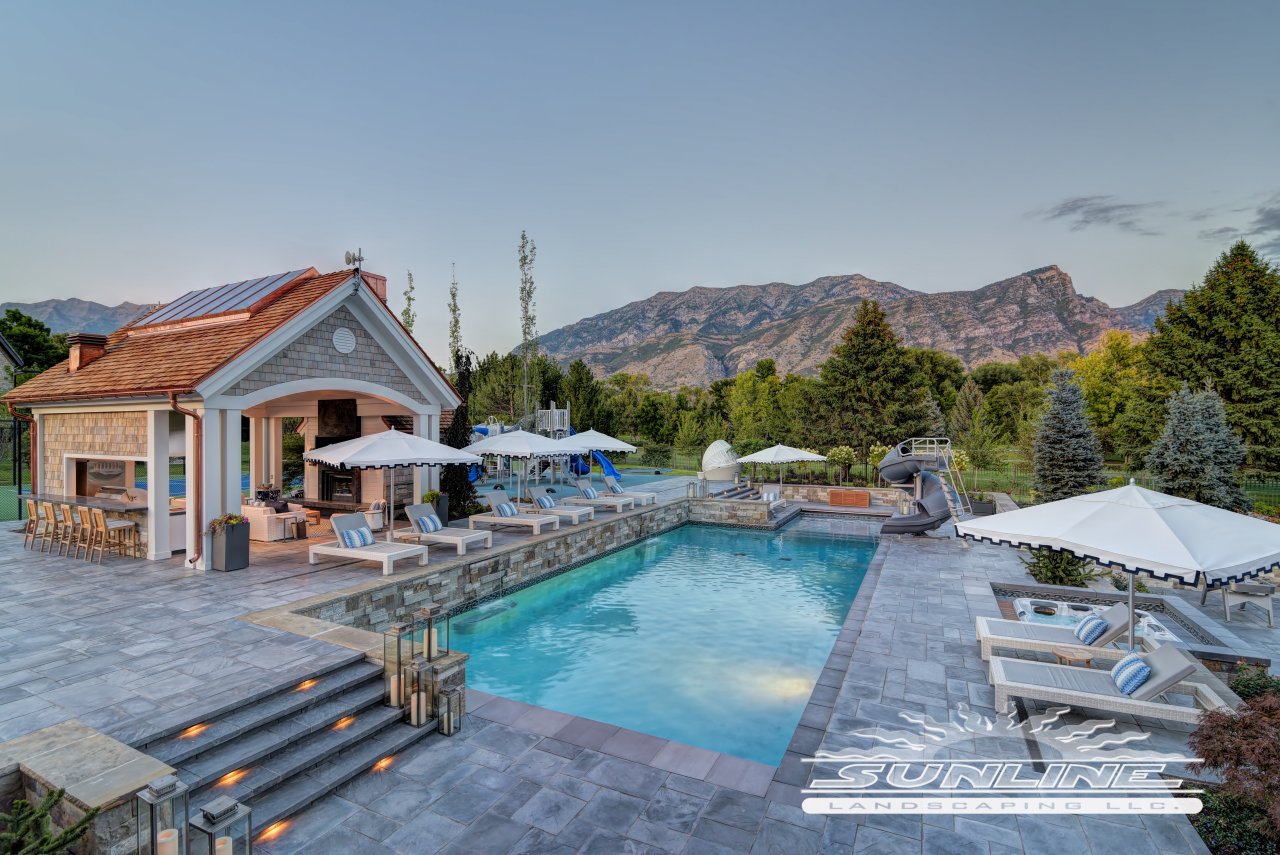 Ready to take the plunge?
Having a pool installed is the best way to connect with nature — and each other — while adding a luxurious touch to your outdoor space. 
At Sunline Landscapes, our professional designers will work with you to make sure your pool is a stunning addition to your backyard oasis… and the only thing you'll have to do is plan who to invite to your first pool party!
To set up an initial consultation fill out our online form or call us today. In the meantime, be inspired by these examples from our portfolio.