You spend a lot of time in your backyard, relaxing and connecting with family and friends. Why not make it amazing?
By choosing amenities that reflect your values and enhance your lifestyle your backyard becomes an extension of your home, transforming it into an extraordinary outdoor living space.
Here are five upgrades to consider when customizing your yard.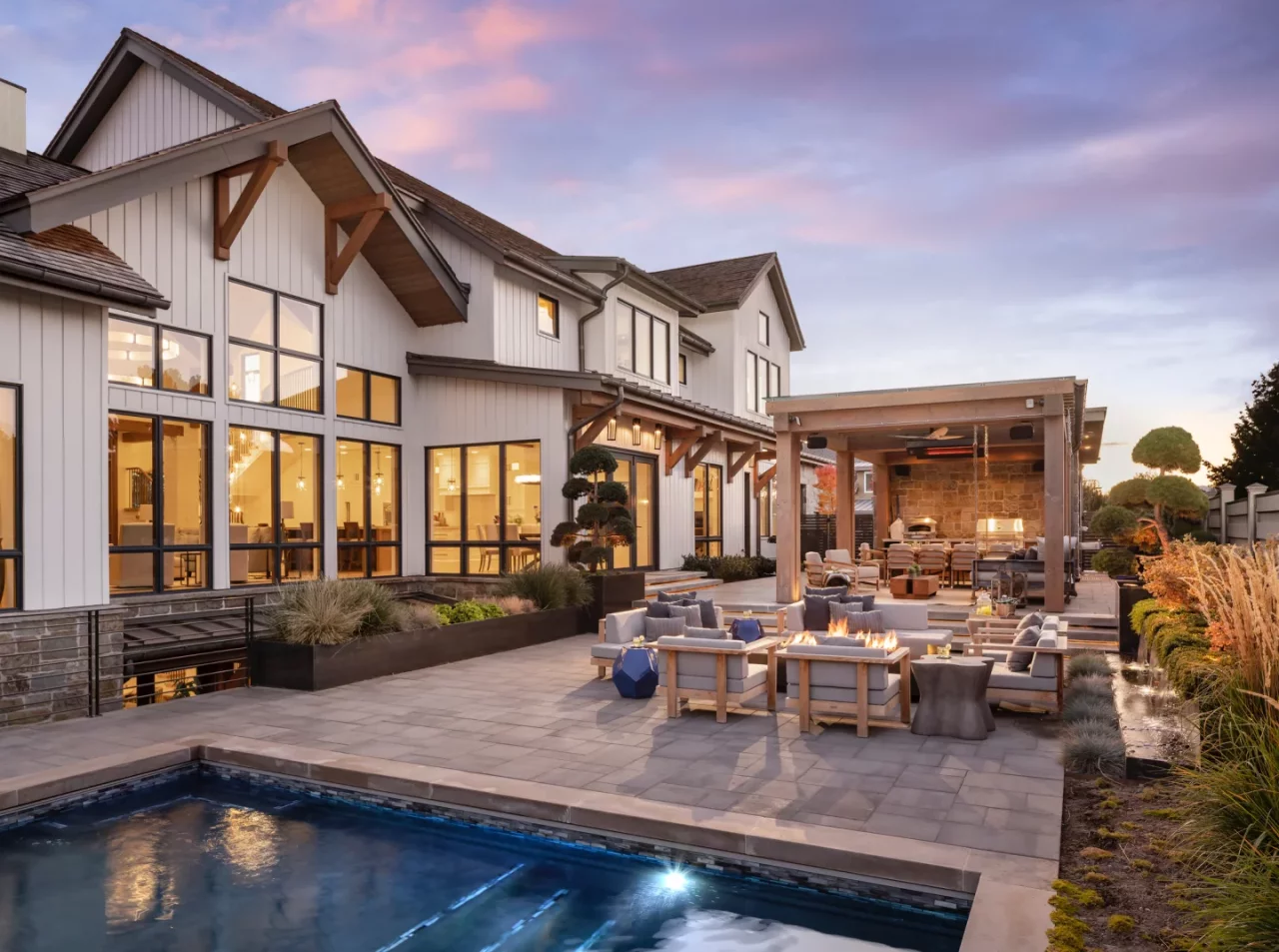 1. Create a custom outdoor kitchen
There's something special about food cooked outside on the grill — the steaks seem juicier, the veggies have a nice char and the air is filled with delicious aromas. 
Yes, entertaining outdoors is wonderful… and having a full outdoor kitchen makes prep work and cooking so much easier!  
Your outdoor kitchen can be designed to merge beautifully with your home's exterior and landscape and can be customized to suit your personal style and culinary needs. You can add features such as:
Grills and barbecues — these are at the heart of any well-appointed kitchen and come in a variety of styles and finishes.

Refrigeration — An outdoor fridge makes everything easier. Prepped food is right at your fingertips, and no more fishing through slushy coolers for a cold drink. 

Pizza oven — imagine having delicious, pizzeria style pizza ready in minutes!
You can further customize your outdoor kitchen with warming stations, ice makers, cabinets, wine coolers and even kegerators!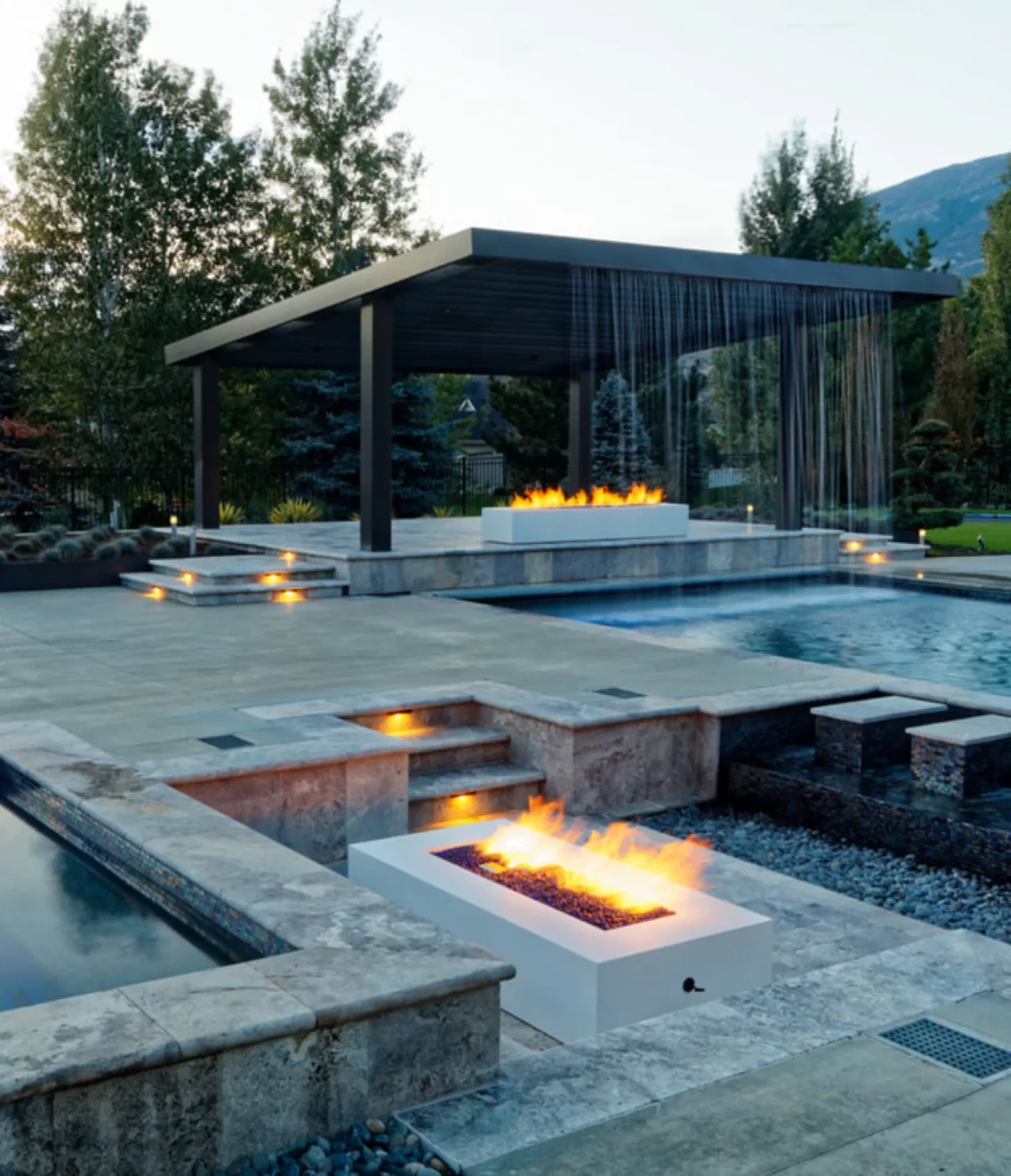 2. Bask in the glow from a fireplace or fire pit
After a busy day, it's nice to be able to gather around a fire with your loved ones to chat, tell stories or — if you're lucky — have a sing-along while someone strums a guitar.
A fireplace is a structural design element often used as a focal point when creating an outdoor "room". They are more formal than fire pits and can be used year round provided it is sheltered from the elements. It can also be incorporated as a feature in your outdoor kitchen (with a pizza oven as part of the design!)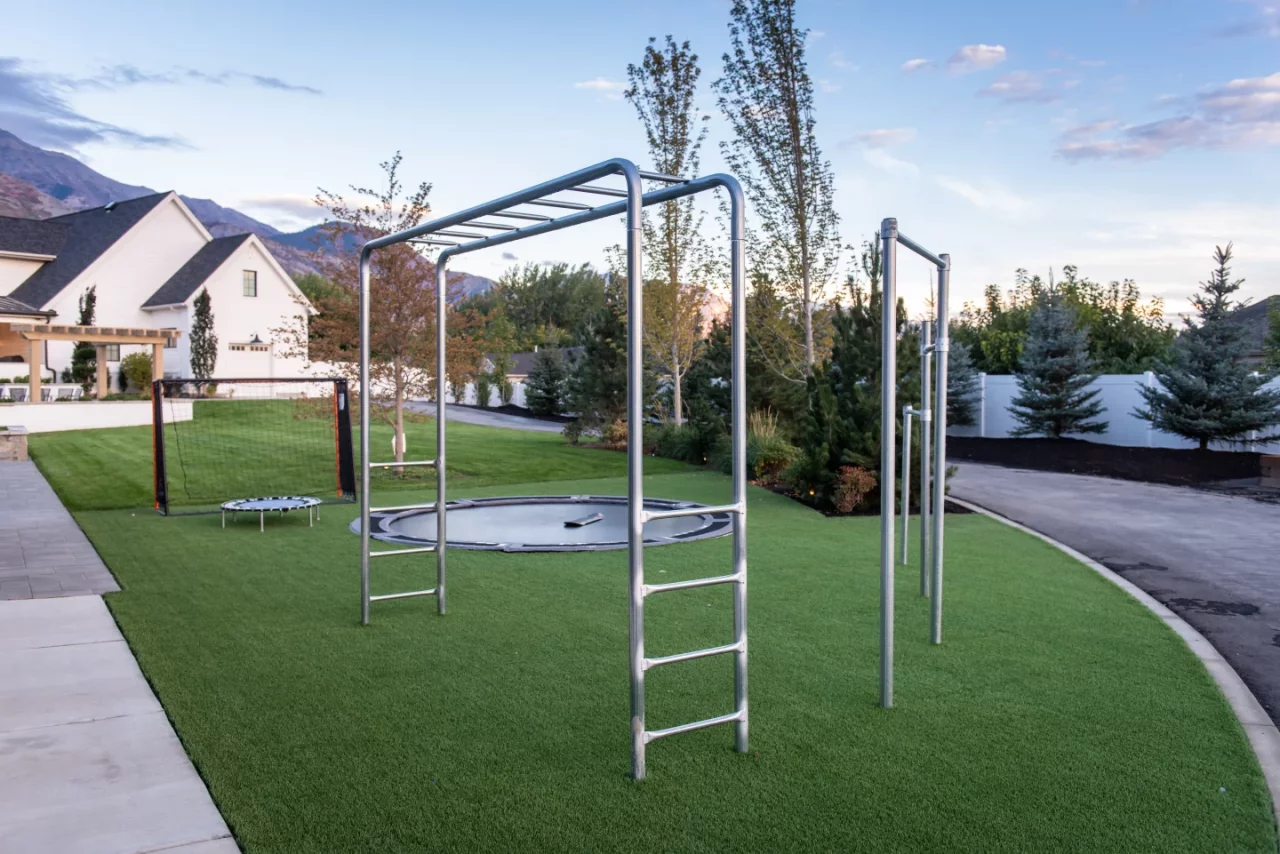 3. Make room for sports and games!
There are plenty of ways to incorporate your family's love for sports and outdoor activities into your backyard design. Some of the amenities we've built for our clients include:
Putting greens so you can step outside your door to work on your short game

Special courts for basketball, tennis, pickleball or other sports

Full or partial playgrounds for the young and young at heart — from jungle gyms to custom built trampolines!
With thoughtful planning and a great design, your backyard will be your family's favorite place to "vacation"!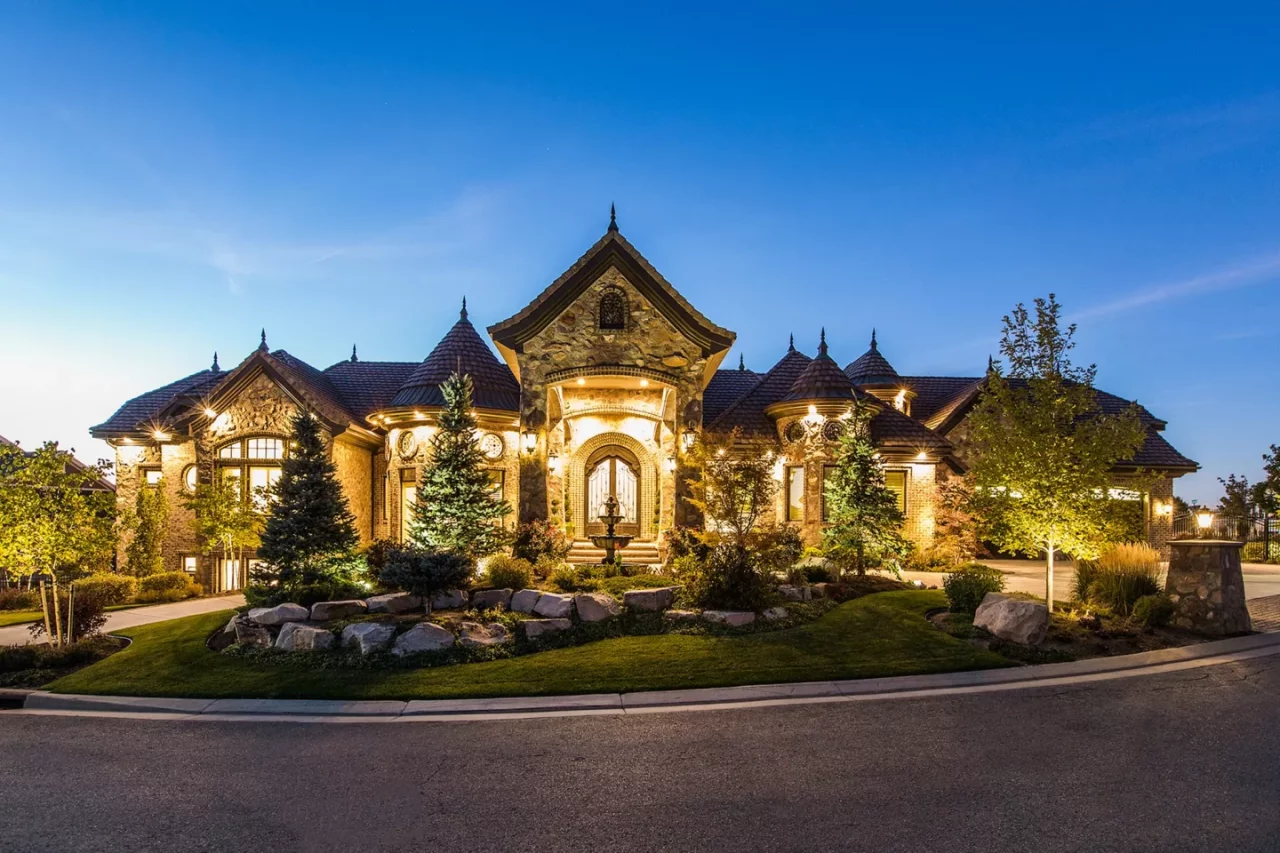 4. Light up the night!
Nothing transforms your outdoors or makes a bigger impression than adding landscape lighting. But proper lighting does more than make your property look amazing:
Pathway lighting keeps you safe after dark, particularly if you have to navigate steps or different elevations.

A well-lit property provides security, keeping animals away and deterring criminal activity.

Lighting extends your evening, letting you enjoy a late-night dinner under the stars or a quiet stroll through your gardens at night.

Landscape lighting lets you highlight key design features like architectural details or special trees and gardens and increases your property's value.
And because most modern fixtures use low-wattage LED lights, multiple fixtures can be controlled from a single controller right from your phone!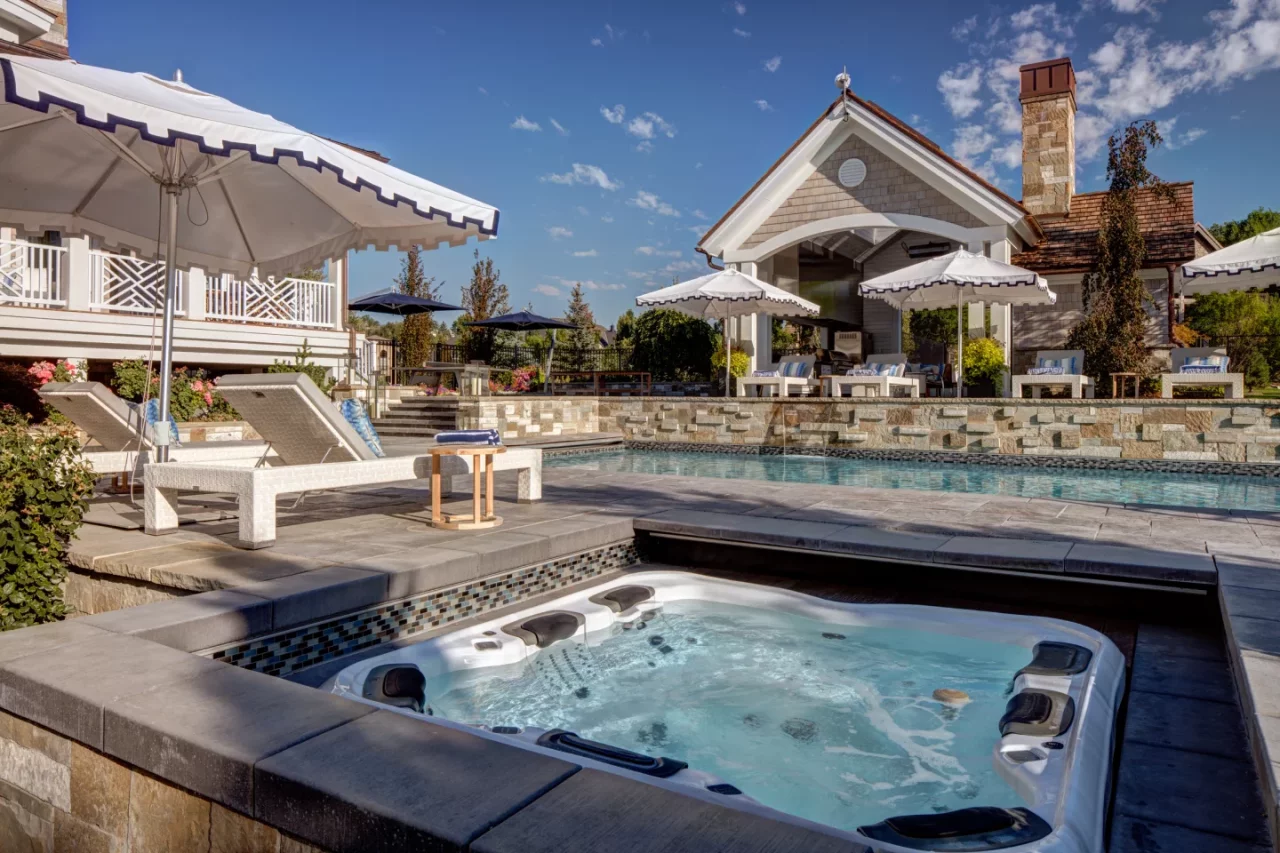 5. Refresh your landscape with a pool or spa!
No luxury landscape is complete without the soothing warmth of a spa and/or the calming coolness of a pool —  they give your home the look and feel of a posh resort and provide a place to relax and connect with family and friends.
You can choose from a variety of styles and materials, so your pool or spa can be tailored to suit your taste and style:
Inground pools can be made of vinyl, fiberglass or concrete. Each one has advantages and limitations (we can help find the one that's right for you).

Infinity, knife-edge & perimeter overflow pools provide a unique and luxurious ambience.

Your spa can be inground, above-ground or sunken, and be a cozy space for two or large enough to host an epic party!

Enjoy the soothing sound of water throughout your property by adding features like fountains, waterfalls and ponds to your landscape.
The water features, pools and spas we install are customizable and use automation systems and smart technology, making them relatively simple to care for and fun to use!
Ready to transform your landscape?
Any yard can be made into something extraordinary — all it takes is vision, thoughtful design and flawless execution. You're invited to browse through our website and be inspired by the luxury landscapes and featured projects. And when you're ready, book a consultation with our design team and together we'll push the boundaries of what's possible!